Best Grease Trap Pumping & Cleaning Services in Pasadena, TX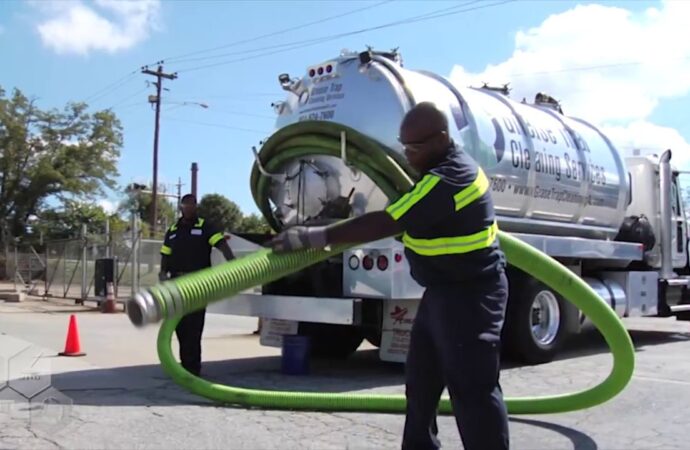 In a sewage system and every single part that complements it, the worst nightmare is having to deal with grease, oil, and fat. Usually, drains and sewers have problems with trapped hair and some solid waste that can be removed with a line snaking or other methods. However, how do you handle grease when it is either obstructing the system with only a few parts of it or it has been a while and already built up? In the case of this waste, we suggest you prevent the problem instead of dealing with it.
Preventing will always be the best solution in several situations, and when it comes to this type of waste, we assure you it is the best you can do. But why is that? Well, having to scrap and get rid of the grease in your drains and sewage will take a lot of time and work. As a result, you can end up damaging the system and having to replace your pipes for a single mistake. So, when this is a risk you are definitely not willing to take, what is the best option
When it comes to residential properties, it is not necessary to do something about it most of the time unless you are throwing a lot of waste that includes all the grease in your kitchen and other areas. But for commercial properties and businesses like restaurants, hotels, and similar ones, finding a solution to deal with grease and fats is more than necessary. In those cases, grease traps are definitely what you should be aiming for and we assure you they will pay off for your investment.
What is so great about grease traps?
---
More than just a tool to catch all the oil and fat that is coming down your drains and sewage system, they will also help you to keep your establishment and property smelling amazing. We all know that hygiene and how your business feels for the public is as important as the service and what you offer. Therefore, why would you even refuse the idea of installing one?
Making sure that all the grease, fat, and oil does not enter your sewer line or septic tank will be your priority from now on. And this is exactly what you can get from those traps. 
But how do you have one installed and make sure it will meet its function and purpose' At USA Septic Tank Service Providers of Pasadena, we can help you to install all the grease traps needed in your drains and sewer lines.
Most of them are placed outside the establishment and near the kitchen or the area of your property from where all the grease and oil come out. If you have a large property or business, we will make sure to place it in the main area and not only where your kitchen is located. This will help to intercede with all the fats and make sure the system is working properly and without grease in the water or building up in the pipes.
How to clean and pump them
---
Now that we understand what they are all about and how they can be placed, what about discussing the main service? Cleaning and pumping them. Most property owners that go for this option believe it is about getting them installed and forget about everything related to them. However, here is something we have to admit about grease traps:
They can be your worst nightmare without property maintenance. It may be fun since we just said the same about grease overall but if you think carefully about it, isn't it the same? Quite a bit. The reason behind the annoyance of the traps is that you cannot let them build up all the grease they are trapping. You have to clean them to guarantee good performance and continue avoiding all this type of waste from entering your sewage system entirely.
Therefore, you cannot expect them to handle all the grease for months or years without at least pumping and cleaning them once. But how can you get this done? There are several ways to carry out this process, and one of the most requested from commercial owners is to apply substances and let them solidify in order to retire them along with all the waste accumulated in the traps. In our case, we will decide which one is the best method.
To be honest, we find that most of the options available are the same but the starting point is what makes them different. After all, you can apply the substances but to be able to remove everything you will need to scrap the area and scoop out all the grease manually or with the right tools. The substances make it a bit easier to remove the grease but it can be done without applying them, which actually helps to prolong the durability and longevity of the traps. That being said, are we the ones you want for this service? Absolutely.
We at USA Septic Tank Service Providers of Pasadena will take care of pumping and cleaning your traps every time it is necessary. For this, we will look out for the time it takes them to fill and how long they last without causing any odor and unsettling smell in your business. Based on this, we will schedule the cleanings and pumping to guarantee you are able to maintain your kitchen and area as clean as possible while also being able to continue using your sewage system without any issues.
Our team of experts will handle the entire process of removing the lid from the grease trap, determine how many inches of grease are accumulated, and remove all the water from it. Next, we will handle all the work of scooping and scrapping every part of the trap to guarantee the very bottom, corners, and sides are completely free of any waste. Once this is done, expect us to place everything correctly while being very careful to prevent any damage. Just let us know when and where you need our services and we will get there in no time.
We offer a variety of services at USA Septic Tank Service Providers of Pasadena. Below, you will see the most popular services our clients & customers always ask for. But if you need something that may not be listed, don't worry. Just give us a call or fill out a form, and we'll make sure to come out to your property or business and make sure we can help you solve your septic problems.
Here at USA Septic Tank Service Providers of Pasadena, we provide the best septic tank services throughout all of Texas and specifically the Greater Houston Area. Below are the nearest cities we can offer immediate services. But if you don't see your city listed below, don't worry! Just give us a call or fill out a form on our contact page, and we'll make sure to take good care of you.
USA Septic Tank Service Providers of Pasadena
409 Clara Rd, Unit 3B, South Houston, TX 77587
(832) 529-6696