Best Sewer Line Repair Specialists in Pasadena, TX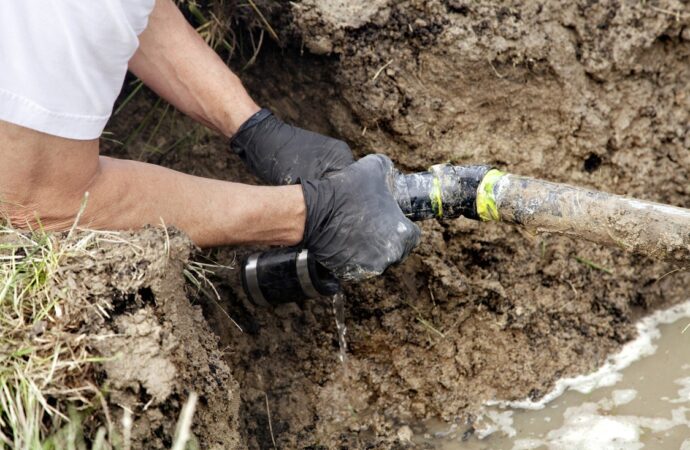 Some people consider septic tanks to be a nuisance and a walking problem all over the place. But if you ask us, we believe they end up being more reliable and easy-going than sewer lines, especially when it comes to repairs. Even when you do your best to prevent certain things, repairs will always take place no matter what, and the best you can do is to reduce the number of times you have to go through them.
In the case of sewage systems and all the lines, you have installed in your property—or connected to—, we suggest you take a step back and think about what you are going to do. But to do with what? With your sewer line, of course!
We will be focusing on this system alone since you are here for a specific reason, and what we are trying to tell you with this above is that you need to think and look forward to solutions. As we were saying, repairs are inevitable and you will have to deal with them, but thinking and trying to find ways to prevent them will not be a waste of time and effort. But what can you do if you have to deal with a sewer line repair?
Whatever you do, do not think about doing it yourself. Among residential owners, in particular, the idea of "patching up" the pipes or lines sounds like a good one… until it is not. You cannot just repair a pipe where all the waste is going through with a simple patch that will last for only a couple of hours or days at most. You need to solve the problem right away to prevent more issues in the future and ensure the system continues working properly. 
Therefore, if there is a piece of advice we can give you beforehand is to never handle this sort of problem on your own. Sewer lines are tricky, even more than septic systems, and you might end up with more problems than solutions when getting a different result from what you should.
Also, keep in mind that sewer lines are more of a system of many pipes all over your place instead of having a huge tank installed in your property.
As a result, this ends up being beneficial but also a bug due to how easy it is to go from a simple broken pipe to an entire property flooding in wastewater or water alone. Now, we don't want to scare you with all this but rather help you with the services you might need for your system. Here and now, let's focus on the repairs you will have to handle later—hopefully, not anytime soon.
A clogged drain can also mean a repair
---
Since we are at it, we want to make certain things clear: a repair doesn't take place only when they are something broken or when something serious has happened. When it comes to sewage systems, you might also need one due to a clogged drain or pipe that is affecting the entire system. Of course, the usual procedure would be to just unclog the drain and let the rest be, but sometimes it can take you more time and effort to get the process done.
Dealing with a blocked drain or line can result in a replacement or having to carry out a process to repair the area where the blockage is located. As a result, we can say the word "repair" is all over the place with this alone. Also, it is hard to tell when a drain is clogged or when the sewer line or pipe is broken. This leads many people to resort to certain measures until it is possible to determine the real problem.
At USA Septic Tank Service Providers of Pasadena, we can help you to deal with all your repairs, and we will start by assessing the system and making sure to identify the real problem with the sewer line. For this, we will ask you to allow our experts to inspect not only the pipe or area where you are getting some signs or noticing the problems. But also, the entire sewage system to make sure the problem has not caused more difficulties in other areas that, as a result, might need some repairs as well.
As you can see, we take quite seriously the entire process of dealing with this, and the only way we will take the project of repairing a sewer line is by knowing what is behind the problem itself. That being said, the repairs can also take place due to a wide variety of sources and elements. Tree roots, cracked pipes due to solid waste, or a collapsed line due to poor maintenance and performance, are just a few ones to mention. Depending on the repair is based on the source of the damage as well as the time and work it takes to deal with it, the cost will vary.
However, rest assured we will do our best to keep it within your budget so you do not have to worry about how you will pay for it. Just keep in mind that sewer line repairs are not cheap or affordable most of the time. Broken pipes and some small problems like unclogging drains before it gets any worse can be simple and affordable. But huge repairs that involve removing tree roots, replacing part of a pipe, or handling the entire collapse of the line, are things you cannot expect to pay for at a low cost.
Thus, here is our recommendation: do not delay contacting us, USA Septic Tank Service Providers of Pasadena. The sooner you deal with your repairs or have experts inspecting the problems you are starting to notice, the sooner you will have your issues behind you and be able to continue enjoying your system. We—personally—will take care of it and guarantee that every repair is done properly to avoid having to go through the same process over and over again. Keep in mind that poor repairs can lead to more problems, and this is the less we want just like you.
We offer a variety of services at USA Septic Tank Service Providers of Pasadena. Below, you will see the most popular services our clients & customers always ask for. But if you need something that may not be listed, don't worry. Just give us a call or fill out a form, and we'll make sure to come out to your property or business and make sure we can help you solve your septic problems.
Here at USA Septic Tank Service Providers of Pasadena, we provide the best septic tank services throughout all of Texas and specifically the Greater Houston Area. Below are the nearest cities we can offer immediate services. But if you don't see your city listed below, don't worry! Just give us a call or fill out a form on our contact page, and we'll make sure to take good care of you.
USA Septic Tank Service Providers of Pasadena
409 Clara Rd, Unit 3B, South Houston, TX 77587
(832) 529-6696