Best Sewer Line Replacement Experts in Pasadena, TX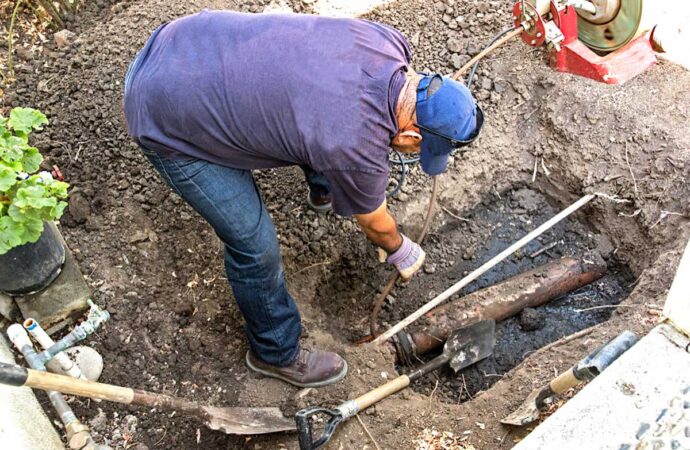 Many homeowners hate the idea of having a septic tank installed in their properties, but they do not realize until something bad happens that sewer lines are not that much better. To begin with, did you know that replacing a sewer main line can cost over $1,000? This is a lot of money compared to the services and the money you will have to pay for maintaining or even replacing your septic tank—if it ever happens.
Of course, sewer lines are durable and you should not worry too much about the entire need of replacing them at some point. But just like repairs, it is always possible to happen and the question here is, how are you going to handle it? Whatever you do, make sure you do not handle this problem or project on your own. To understand this, we have to stop for a minute the whole topic of replacement and focus on the sewer line overall.
Let's start with the usual maintenance. Did you know they also have to be cleaned and pumped? It is not common to perform services in this sewage system since—most of the time—properties are connected to it due to the public one available in the city or town. But just like other pipes and elements, you can also have problems with stubborn blockages that only give you hard times. Also, it is a bit more difficult compared to septic tanks because the lines you might need to deal with are probably not located on your property but rather outside your land.
This means that besides having to handle the problem you also have to ask for permission in order to have the issue solved and everything in place. So far, it sounds like too much to do, right? Well, you do not have to worry as long as you take your part in all this and maintain them properly by not only performing the corresponding services on time but also having the right professionals doing it. Repairs,  unclogging pipes, and replacements are things you should not be thinking to handle on your own and thus, you must take the time to contact reliable and experienced companies like us.
We at USA Septic Tank Service Providers of Pasadena, offer top services in the sewage industry that includes everything about sewer lines, including replacing them when necessary. Going back to the replacement service you might be looking for from us; you must know it will not be easy nor cheap. If there is one thing we can tell you is that sewer line replacement is an expensive service most of the time—as we mentioned before—and it is due to the materials and works it entails. We have to—first—inspect the entire line to make sure there are not only one or two parts that need replacement but also ensure the integrity of the entire system.
Next, we have to start removing everything carefully and without compromising the rest of the parts of the line. The specific line we are replacing also plays an important role when it comes to the process and the money to be spent. If it is the main one, the cost will definitely be around $1,000 to $5,000. However, this also depends on the company you are employing to get it done.
We like to work around the budget of our clients and make sure the services are not only what they expect—and more—but also what they can access without thinking about it twice. For this, we had to invest a lot of effort and time trying to find solutions for certain problems and situations. Usually, sewer lines are quite resistant and replacements are not needed unless something serious took place. Like an earthquake or a specific internal or external pressure that damaged the line.
Therefore, it is not something that many people request in our company or any other business in the sewage industry located in Texas. But what does this have to do with what we were saying? Everything. Since the service is not common to be requested and it takes place mostly when something severe happened, we will do our best to determine if it 100% necessary or not. Just keep in mind we will not work around broken sewer lines nor ignore the fact that they need to be replaced.
Many property owners try to contact us and convince our experts that a simple repair and patch can do the trick in some situations. But we know what we are doing and that includes knowing very well when replacing the pipe is necessary. Thus, we expect some cooperation when you reach out to us knowing that the most likely outcome or service will be focused on a replacement.
Why you cannot replace your sewer line on your own
---
Because it takes experience and the right equipment. In the sewage industry, it is easy to make something bad even worse. At USA Septic Tank Service Providers of Pasadena, we strongly believe that things can actually get worse, and this is not us trying to be negative about things but rather realistic. When you perform a bad service, especially one of this magnitude, the number of things that can end up badly due to poor performance and service are many.
This is why we insist so much on avoiding dealing with problems and projects on your own. DIY ideas are completely banned when it comes to both sewer lines and septic tanks, and replacement is out of the conversation in this matter. No property owner meets all the requirements—unless he or she works in the field—to handle this type of work.
The lack of experience and proper equipment plus all the potential safety hazards involved will only lead you to not only get your lines more damaged but also increase the possibility of an accident. Just leave everything to us and you will notice that the replacement will be done in no time and without any issues.
We offer a variety of services at USA Septic Tank Service Providers of Pasadena. Below, you will see the most popular services our clients & customers always ask for. But if you need something that may not be listed, don't worry. Just give us a call or fill out a form, and we'll make sure to come out to your property or business and make sure we can help you solve your septic problems.
Here at USA Septic Tank Service Providers of Pasadena, we provide the best septic tank services throughout all of Texas and specifically the Greater Houston Area. Below are the nearest cities we can offer immediate services. But if you don't see your city listed below, don't worry! Just give us a call or fill out a form on our contact page, and we'll make sure to take good care of you.
USA Septic Tank Service Providers of Pasadena
409 Clara Rd, Unit 3B, South Houston, TX 77587
(832) 529-6696