Best Municipal and Community Septic Systems in Pasadena TX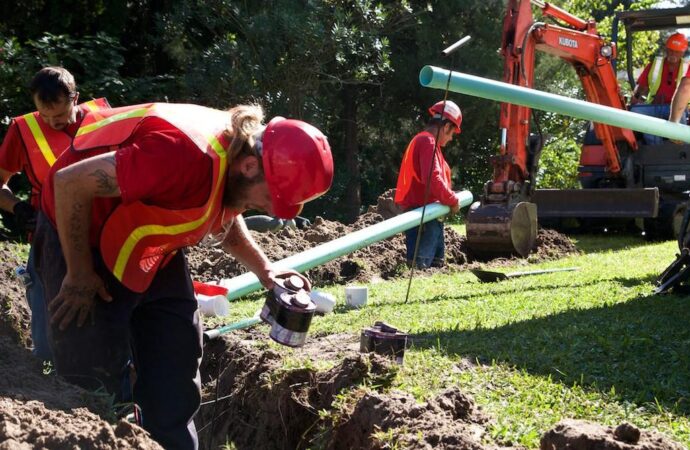 Working with a small septic system for your home is difficult enough, imagine having to deal with one for several ones or an entire neighborhood. A complete nightmare. Now, you might not need it if you are just part of a community where you have to deal with your sewage needs on your own, which only means you have to install either a sewer line or septic tank for your home alone.
But what about a project that involves 2, 3, or more properties? How can you get it done without missing anything? In Texas, rural areas always have problems when it comes to sewage systems installed or connected to their properties, and it is because the public sewage line is not available for most of these parts. As a result, you will have to include—most of the time—the task of installing one on your own.
However, when we talk about an entire community, neighborhood, or several properties affected by the same problem, things can be a bit easier and less expensive. How? By going for the option of installing a community septic system. Just like a residential or commercial one, the function and purpose of the system are the same: process and treat the waste that is generated in the properties. The best part about having a septic system is that people have more control over the waste accumulated in their properties and as a result, it is easier to deal with all the cleaning and maintenance.
As we mentioned before, you will also be able to solve many people's problems by installing the entire system instead of going one by one. But besides saving money and time, how does this service and option specifically benefit you and every property owner? By delivering a more complete service. First, it is not about the scale of the project and something like installing an individual septic system in each property.
Instead, the municipal one consists of a decentralized waste treatment system that is cost-effective, and efficient, and allows several property owners to deal with their wastewater and solid waste at the same time and without any issues.
But what has made people go for this option instead of installing individual systems or just trying to get public sewage systems to access the entire sewer line installed for the state? 
Well, the main problem with septic tanks is that they are not ecological, at least, most of the time.net.
Since the wastewater is treated and then goes to the ground, the soil is quite important in the whole process. To be more specific, most septic system technologies rely on underlying soil to treat wastewater. But as a consequence, many environmental risks can take place, especially when certain tanks are completely full and the water coming to the surface is not treated properly. What is the difference with this community system since the principle or function is the same?
As we already mentioned, the decentralized system makes it more functional and effective and thanks to the entire connection to a common septic tank, there is no need to worry about individual ones. As a result, it is possible to go for an environmental-friendly option that helps you, the property owner, and the other ones involved, to obtain the sewage system required while also looking out for the planet.
How can you have it installed?
---
This project takes a lot of work, and we know you can already tell by just mentioning or considering the number of properties involved that are in need of the system. Therefore, you must know by now that it is impossible to handle it on your own, and for the installation and future services, you will have to rely on certain professionals.
We at USA Septic Tank Service Providers of Pasadena, offer the best services for installing municipal septic systems, cleaning, pumping, and performing any maintenance necessary to ensure top performance. Unlike other companies in the sewage industry, we are not afraid of taking on this challenge. The issue and difficulty of dealing with this service, in particular, are that it involves many parts and people at the same time.
To be honest, it is hard to deal with the installation of an individual one already due to all the work it takes to obtain a permit, test the soil, and go through the process of excavation and placing the tank. In the case of this large-scale project, it is true we will not have to place several tanks at the same time, but it will entail a lot of things to do due to all the connections that need installation. Remember, it is a system, not a tank alone, which is why the process will take time.
However, what we are trying to tell you with all this is that we can handle it without hesitation. Despite it being a challenge, the truth is that in Texas, the installation of community septic systems is growing in popularity due to the environmental benefits and the possibility of saving costs. Thus, the state is allowing more people to go for this option—and allows companies to perform the service—to aim for a better solution to the planet and still handle all the sewage needs.
Just keep in mind that just like any sewage system, the result needs to be perfect. Our professionals at USA Septic Tank Service Providers of Pasadena are more than trained, experienced, qualified, and equipped to take this on their shoulders and start as soon as possible. We will arrive at your area and run all the necessary tests on the soil, make sure the permissions for the installation have been acquired, and start the project right after all the materials and equipment have arrived at the place.
Just let us know if there is something in your mind about the design and how large the septic system will be. Is it only for a few properties or maybe several ones? No matter how many there are, we will handle it as well as the future services for maintenance.
We offer a variety of services at USA Septic Tank Service Providers of Pasadena. Below, you will see the most popular services our clients & customers always ask for. But if you need something that may not be listed, don't worry. Just give us a call or fill out a form, and we'll make sure to come out to your property or business and make sure we can help you solve your septic problems.
Here at USA Septic Tank Service Providers of Pasadena, we provide the best septic tank services throughout all of Texas and specifically the Greater Houston Area. Below are the nearest cities we can offer immediate services. But if you don't see your city listed below, don't worry! Just give us a call or fill out a form on our contact page, and we'll make sure to take good care of you.
USA Septic Tank Service Providers of Pasadena
409 Clara Rd, Unit 3B, South Houston, TX 77587
(832) 529-6696