Top Porta Potty Rentals (Portable Toilets) in Pasadena, TX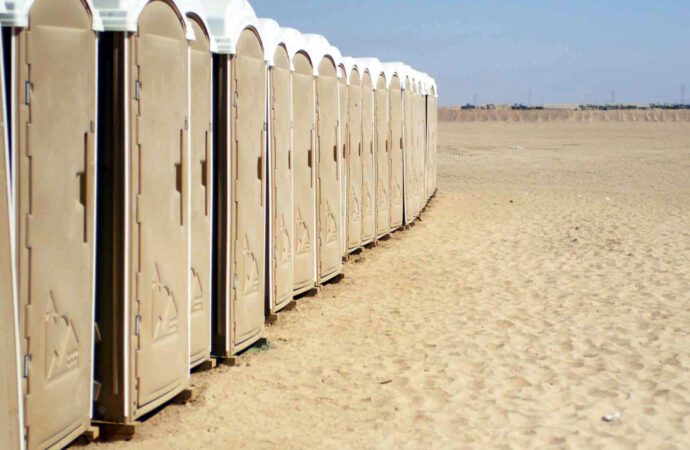 Finding everything you need for your events or constructions will take you more time than is usually expected. If you do not believe us, we suggest you resort to the old trick of making a list and going over each one of the things you will need to make things happen. Let's take construction as an example.
You not only need to buy the materials, find the contractors, and make sure everything is going as it should. You also have to include other equipment and elements to the list of 'must-haves' to cover every need and problem in the construction. So far, we are sure you have thought about all this except for one thing: a portable toilet—or more than one. Having to rent them is not something most people think about when carrying out a project or even planning a huge event with hundreds or at least, dozens of people.
However, we could not come up with a more necessary element than this in order to make it a success in every possible way. For construction, many people assume that contractors can deal with the task of finding a place to handle their physiological needs, but we all know this is impossible, especially when there is nothing built yet. As for events, you might not need them all the time, or this is what you think. When you are having an outdoor event, the only solution tends to be a porta-potty that can give your guests the restroom they need.
However, we understand that some people hate the idea of having a not so glamorous option for everyone. But what else can you do when there is no other option available but rather just leave everyone struggling with only 1 or 2 restrooms? Nothing. 
Now, here is a piece of information: the portable restrooms you rent do not have to be awful or ugly. Just take the time to go over all the options available. Also, you have to think about the specific unit you need not only about aesthetics and appearance but rather about functionality as well. We are sure the last part will not be a struggle since there is nothing to choose in terms of capacity but instead, in numbers. To be more specific, those are the questions you should ask yourself when renting porta-potties: 
How many units do I need? 

How many people will assist in the event or be involved in the project? 

Do I need one with special amenities and features? 

For how long are they required?
When you get those questions answered, you can start looking for a company that can rent all the restrooms you need. 
We at USA Septic Tank Service Providers of Pasadena offer sewage services for everyone in Texas, and this includes renting portable toilets. Our company knows that everyone is trying to go back to normal during this quarantine and pandemic situation. And when it comes to distance and how much contact there is between all the people, we all know that using those restrooms is not only necessary but also required. 
Now, how can we help you besides providing all the units you need for your event or construction? By offering support and advice while renting them. You see, we understand that even when you get to answer the previous questions, the right choices can be a bit confusing. You still do not know how many units you will need based on the information from your answers and you will have no idea of what features or special amenities you can get in a portable restroom. 
Believe it or not, there is much more information involved than you think, and we will be here to help you with two things:
Renting the porta-potties you need.

Choosing the right number of units and extra features.
How many do you actually need?
---
This is the question you need to answer to have everything else solved within a few minutes. Therefore, we are going to focus on it only and make sure you are able to spend the money you have to only instead of investing more in this element. Now, here is something you must know before getting to the numbers: all portable restrooms have the same capacity.
Usually, they can be used around 150 to 200 times, which is what you need to keep in mind when considering the number of people in the event or project you are planning. Also, you have to add the time you will be using the restrooms and get an estimate of how many times they will be used per day.
The numbers are not that simple when you have to put all this together. But we will not make you go through the process when we can help you to get the answer. When you are running a worksite or having construction, you should have at least 1 unit for every 10 workers or contractors. This will cover most of the time a project like this will last or you can always get it replaced in case the capacity has been exceeded.
But what about a bigger situation? Maybe an event that involves hundreds of people? More people mean more liquid and food, which means you have to cover more needs and uses than the number of people themselves. Usually, we recommend using 1 porta-potty for every 50 to 70 people depending on how long the event will last. Most parties—for example—last between 4 to 6 hours and 1 unit can be enough for 70 people.
However, if you are indeed dealing with a lot of drinks and therefore, liquids, you will definitely want more than one. Based on all this, what do you say? Can you get the estimated number you need? Our company USA Septic Tank Service Providers of Pasadena and every expert in it will help you with this process with our services and restrooms, we include delivering and picking them up just like any other company. Therefore, do not worry about how to handle them just let us know how many and for how long you need them.
We offer a variety of services at USA Septic Tank Service Providers of Pasadena. Below, you will see the most popular services our clients & customers always ask for. But if you need something that may not be listed, don't worry. Just give us a call or fill out a form, and we'll make sure to come out to your property or business and make sure we can help you solve your septic problems.
Here at USA Septic Tank Service Providers of Pasadena, we provide the best septic tank services throughout all of Texas and specifically the Greater Houston Area. Below are the nearest cities we can offer immediate services. But if you don't see your city listed below, don't worry! Just give us a call or fill out a form on our contact page, and we'll make sure to take good care of you.
USA Septic Tank Service Providers of Pasadena
409 Clara Rd, Unit 3B, South Houston, TX 77587
(832) 529-6696